News
Paradise Lost released
With the date of 9/9/9 the new effect of Christian Chelman is finally available
09.09.2009
"Paradise Lost" is the latest effect by Christian Chelman, released in a LIMITED EDITION of only 500 copies!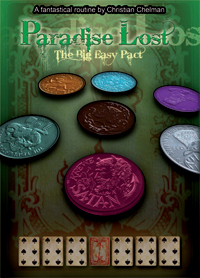 Paradise Lost is Christian Chelman's masterpiece and an effect straight from his current professional repertoire, for the first time divulged to the fraternity. The effect, a co-production Card-Shark and MPMagic, is not just explained in the accompanying booklet, but taught in every detail: a first for a bizarre magick effect! All necessary material is provided as well, including some "hauntiques" that will otherwise be very difficult to source, as anybody who tried to replicate any effect from Chelman's books will well know.

Your audience sees two 3-card-sets of 6 of Spades and a blank card which mysteriously and repeatedly travels from one packet to appear in the other one: escaping the clutches of Hell to safety! The reason for this is explained by an eerie tale where your "oh-so-clever" cousin is outsmarted by the Devil himself as he didn't keep a pact he sealed in New Orleans. The effect is the final evolution of Pact, a trick first explained in English by Christian in his book, Capricornian Tales but the effect itself is a lesson in routining a text with magical techniques in order to create wonderement by the audience. Paradise Lost is the result of 40 years of experimentation by Christian Chelman.
If you want to have an idea of Christian Chelman's masterpiece, you can read this post on the Magic Café, although the story (which is 50% of any Bizarre Magick effect), sadly, doesn't convey the full magic the audience can experience.
When you buy the effect, you receive a 24-pages booklet with clear and detailed instructions on how to perform the routine and how to integrate the techniques with the story; a set of antique looking custom playing cards; six antique multi-coloured doubloons that are essential to the story; and a specially-printed leaflet.
This effect is strongly limited and only available through Card-Shark and MPMagic.
---
News Archive

06.12.2013




Card-Shark donates 5 % of every purchase to Non-profit Organizations


Up to and including December 20th, 5 % of your purchase will be donated. YOU DECIDE where your donation will be spent!
read news

01.08.2011




Card-Shark official FISM Partner


FISM and Card-Shark have become partners as of the 1st of August 2011. The Phoenix Deck is now officially the world only FISM recognised deck for magicians.
read news

10.05.2010




Phoenix Double-Decker officially released


No other product ever sold that fast without even being officially released.
read news

13.02.2010




Phoenix Rough & Smooth Spray released


Card-Shark develops an optimized Rough & Smooth Spray for the inconspicuous preparation of playing cards. In combination with the innovative Spray-Grid a "foolproof" Set for every magician.
read news

03.01.2010




Configuration Tool now also available for Phoenix gaffed cards


The worldwide unique online tool for creating gaffed cards can now also display the new Phoenix aces and the Phoenix back design.
read news

06.10.2009




Presale Phase of the Phoenix Deck started


Welcome to the home of the Phoenix! With great presale offers we celebrate the birth of the Phoenix Deck.
read news

11.09.2009




Relaunch!!!


Finally I managed to get my new website up and running.
read news