News
Card-Shark official FISM Partner
FISM and Card-Shark have become partners as of the 1st of August 2011. The Phoenix Deck is now officially the world only FISM recognised deck for magicians.
01.08.2011

FISM (Fédération Internationale des Société Magiques), the International Federation of Magic Societies, and Card-Shark, creator and manufacturer of the Phoenix Deck and exclusive card-tricks and trick cards have become partners as of the 1st of August 2011.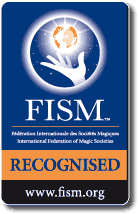 Card-Shark is granted the world-wide use of the "FISM Recognised" logo and of the "Official Partner" logo on all its products.
When the License Agreement was signed, Eric Eswin, International President of FISM, stated: "This is really a win-win-situation: FISM is proud to support a high class card deck, specially developed for magicians and Card-Shark will certainly profit from FISM's world-wide reputation and high standards in magic."
Christian Schenk, Director and owner of Card-Shark quickly added to this statement: "... and soon it will be noticed that magicians will also profit from this partnership. The next months will bring several big surprises! In the next few days we will start again a new revelation in card magic. With our Double Deckers and Parlour Decks we already wrote history, but what will come next will exceed all that! Guaranteed! It will be a very hot summer and autumn this year!"

---
News Archive

06.12.2013




Card-Shark donates 5 % of every purchase to Non-profit Organizations


Up to and including December 20th, 5 % of your purchase will be donated. YOU DECIDE where your donation will be spent!
read news

10.05.2010




Phoenix Double-Decker officially released


No other product ever sold that fast without even being officially released.
read news

13.02.2010




Phoenix Rough & Smooth Spray released


Card-Shark develops an optimized Rough & Smooth Spray for the inconspicuous preparation of playing cards. In combination with the innovative Spray-Grid a "foolproof" Set for every magician.
read news

03.01.2010




Configuration Tool now also available for Phoenix gaffed cards


The worldwide unique online tool for creating gaffed cards can now also display the new Phoenix aces and the Phoenix back design.
read news

06.10.2009




Presale Phase of the Phoenix Deck started


Welcome to the home of the Phoenix! With great presale offers we celebrate the birth of the Phoenix Deck.
read news

11.09.2009




Relaunch!!!


Finally I managed to get my new website up and running.
read news

09.09.2009




Paradise Lost released


With the date of 9/9/9 the new effect of Christian Chelman is finally available
read news
---