Welcome to the website of high quality magic items
Card-Shark is the renowned specialist for magician's playing cards and stands for highest quality, craftsmanship, German perfection and top notch service.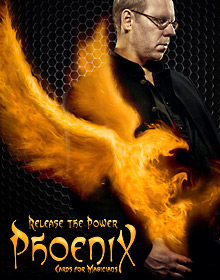 In the last few years we created several high class vintage style decks and effects that influence the story telling and bizarre magic already. But this was only the beginning.

Once we rode Bicycles - Now we can soar with the Phoenix!
The new era in card magic started in November 2009 by releasing a unique new designed deck of Poker cards, specially made for magicians. After about 6 months we started the whole range of Phoenix Double Deckers, the thinnest cards on planet earth. Exactly on its first anniversary after giving birth to the Phoenix we are continuing the revolution in card magic - by releasing the Phoenix Parlour Deck. The World's Smallest Jumbo Deck is available in all kind of types including trick decks, custom prints, packet tricks etc. 
Read more about the Phoenix Deck family here.